Peace, tranquility, serenity - it's nice to have a break from the hustle and bustle once in a while.
Some say that fishing is a great way to unwind. You can win some sweet rewards while you relax by fishing in Candy Crush Jelly Saga!
How does it work?
The Fishing with Friends event will give you the chance to haul in some great rewards. Collect fish by matching 4 candies in a 2 x 2 square and for each fish you create, a point will add to your score. Keep collecting and meet the targets to net some goodies!
Be careful though, you'll need to complete the level without restarting for any fish you've created to count toward your totals
.
Once you've met your first target, get your first reward. If you continue you'll
be put
in a team with other players and you can win even bigger prizes!
A leaderboard will show your team and the contributions you've made to the total, so teamwork makes the dream work
!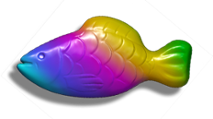 When will I see it?
As with our challenges and events, they're not set by a schedule or calendar.
Sometimes they do fall into a possible pattern, but this is usually coincidence rather than by design
. We like to keep things varied and fun - so keep checking your game and notifications from time to time and jump on in!
What if others can play it and I can't?
To keep Fishing with Friends accessible and available for everyone, sometimes you might have access to it and your friends may not, or vice-versa
. This is so that everyone gets to play.
Keep in mind, you may have it when they don't too - so jump in whenever you get the chance.