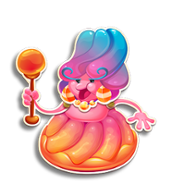 The Jelly Queen and her boss friends Cupcake Carl and Licorice Larry have always enjoyed a battle on their levels of the game, but they're not all bad really. They want you to do well so they can keep meeting up with you for a round of Jelly.
As a helping hand and to keep you on track, they've left a few gifts for you on the map through the land of Candy Crush Jelly Saga!
From time to time these prizes become available and can be seen dotted ahead on the map, at intervals next to the level number buttons.
If you reach them in time, you can pick up the boxes and the contents are yours to keep! But each box has a timer on, so act fast before they disappear!
How do I take part?
When the boss treasures are available, you'll see the parcels on your game map at spaced intervals, so check your path through the world of Candy Crush Jelly Saga and when the challenge is active, you'll see ahead of your current position on the game map.
What can I win?
Prizes in the gift boxes will increase in value depending on the position of the box. You can win all types of boosters and goodies!
The first box contains a smaller prize, the second is bigger and the last is the biggest so keep pushing forward and you can pick up some tasty treats!
When can I play?
It won't be in-play all of the time, but the Boss Treasures will appear and you'll see the gifts ahead of you on the trail on the map screen.
Good luck on your journey and gather those gifts before the clock runs out!